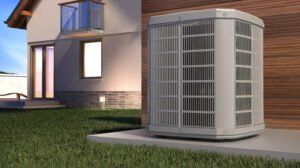 Contrary to what the name implies, heat pumps do more than heat your home. They can also keep your home cool in the summer as well. But if you're accustomed to traditional HVAC units, you might not know how they work.
In this guide, we'll break down the different types of heat pumps, how they work and how to decide if they're right for you.
How Heat Pumps Work
Heat pumps have two modes: heating and cooling. In the summer, it removes the hot air inside your home and releases it outdoors. In the winter, it works in the opposite way. Even when it's cold outside, there's still warm air present. A heat pump extracts the warm air from outside and releases it indoors.
Types of Heat Pumps
If you're considering heat pump installation, you have three types to choose from. While they all work relatively the same, there are subtle differences.
Air Source
Air-source heat pumps consist of two parts. The air handler is indoors and the heating unit is outside. Depending on the settings, as refrigerant passes between the two components, it either warms or cools your home.
When compared to electric furnaces, new models can help you save as much as 50 percent on your monthly heating expenses. In addition, these types of heat pumps also work well to dehumidify the air when it's hot outside.
Mini Split Ductless
Split ductless models also have two components: an outdoor compressor and the air handler indoors. These units are typically installed on walls near the ceiling. They're extremely quiet and are remote-control operated.
Although they're made for ductless homes, mini splits can also be installed in any rooms you may add to your home. Because they're ductless, mini splits can slash energy consumption by about 30 percent. They also offer design flexibility, which works well for people who don't like the look of traditional systems.
Geothermal
Geothermal heat pumps are usually more expensive than other models. They work by moving water through a series of looped pipes buried underground. Geothermal heat pumps can reduce energy consumption by 25 percent, have a lifespan greater than 20 years and require little maintenance.
Steps For Choosing a Heat Pump
When choosing a heat pump, there are a few things to keep in mind. In addition to staying within your budget, the following factors should be considered.
Location
Heat pumps perform best in areas with mild to moderate climates. If the temperature is below freezing most of the winter, you may need a supplemental heating system. If it's extremely humid, you'll need to find a model that's best suited for the climate.
Energy Efficiency
You also need to determine the efficiency rating your home requires. To do so, you'll need to evaluate the heating season performance factor (HSPF) and the seasonal energy efficiency factor (SEEF).
Size
The size of your home determines which size heat pump you need. It's important to work with a qualified HVAC contractor who's experienced in heat pump installation. They'll evaluate the size of your home, pre-existing ductwork and the condition of the insulation.
If you'd like to learn more about heat pumps, contact the Climate Expert today. We're happy to answer any questions you have.