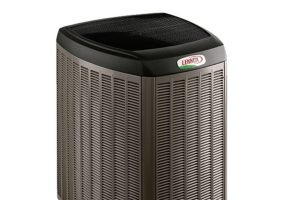 Air conditioners are essential household items during the summer months. As the outdoor temperature rises, your home will still feel like a cool, breezy oasis with the air conditioner running smoothly. If you're on the lookout to upgrade your AC unit, the Lennox brand offers a great selection of home cooling systems. These Lennox air conditioners have distinctive features, aimed to accommodate the diverse cooling needs of every home.
One of the best Lennox air conditioners is the XC25 model. This versatile AC unit is equipped with unique features supported by modern, cutting-edge technology. It has superb energy efficiency, along with smart temperature settings and high-quality infrastructure. Designed to make your home as comfortable as possible, the Lennox XC25 air conditioner is a popular choice among homeowners worldwide.
If you're interested in learning more about the Lennox XC25 specs, let's review the best features of this air conditioner.
SEER Rating
The Lennox XC25 air conditioner has an excellent SEER rating of up to 26.00. Also known as the Seasonal Energy Efficiency Rating (SEER), this metric determines the overall cooling efficiency of an air conditioner unit. The higher the SEER rating, the more energy efficiency it can achieve.
Typical air conditioners usually have SEER ratings within the range of 13 to 18. At up to 26.00 SEER, the Lennox XC25 has one of the leading efficiency ratios available in the HVAC market. This incredibly energy-efficient air conditioner can save you lots of money in utility costs.
This savings chart displays the estimated savings from a 26.00 SEER air conditioner compared to an existing AC unit with only a 10.00 SEER. Over the course of five years, your savings will accumulate due to how efficiently that the Lennox XC25 can perform.
Silent Comfort Technology
An air conditioner's sound output is one of the most important specs for many homeowners. You want a quiet air conditioner that barely makes its presence known in your home. The noise levels should never reach a point that you are noticeably annoyed and disturbed.
The Lennox XC25 air conditioner uses an exclusive Silent Comfort technology to reduce the potential noise production. In fact, the Lennox XC25's sound rating can go as low as 59dB, which is approximately 50% quieter compared to our other units. The virtually silent air conditioner is built with an industry-exclusive composite fan design, supported by an insulated compressor compartment. These physical components work together collaboratively to reduce the volume that you hear.
Solar Power
The Lennox XC25 air conditioner can operate using the SunSource® Home Energy System. This intuitive technology allows the air conditioner to take solar power and use it to run the cooling system. This is a fantastic way to convert a clean, sustainable energy source and put it into productive use for your AC unit.
In addition to the environmental benefits, the solar technology in your Lennox XC25 air conditioner may come with financial perks. Based on where you live, you may have the opportunity to receive tax deductibles from the government and refunds from the utilities company. These lucrative incentives are created to encourage homeowners to use more solar technology. Make sure you check with Lennox Dealers Toronto to determine if your eligibility applies.
Cooling Technology
With the Precise Comfort® technology, the Lennox XC25 can regulate your household temperature consistently and intelligently. This technology is partnered with the iComfort Wi-Fi® thermostat to make small optimal adjustments to the temperature output as the day progresses. These adjustments may increase or decrease routinely within 0.5 degrees of your set temperature, which ensures your airflow feels comfortable regardless of the outdoor conditions.
Physical Design
The Lennox XC25 is a durable air conditioner constructed with a PermaGuard™ cabinet. The galvanized steel material, paired with a zinc-coated steel base, will create a strong exterior that protects the AC unit from corrosion. Over the years, your Lennox XC25 air conditioner is going to demonstrate incredible fortitude against rust and natural decay.
In addition, the Lennox XC25 air conditioner is equipped with a trademarked SmartHinge™ Louver Design. This design makes it simple for you, or a professional Lennox air conditioner repair technician, to examine the unit's interior parts.
Maintenance & Warranty
When you purchase a Lennox XC25, you may appreciate the longevity of the 10-year limited warranty on the compressor and all remaining covered components. This warranty gives you the peace-of-mind protection when investing in the Lennox XC25 air conditioner for the long term.
In addition, homeowners will enjoy a great experience when repairing or maintaining the Lennox XC25 air conditioner. Our team of Lennox air conditioner experts is dedicated to exceptional customer service. We will provide diligent maintenance services, backed by our solid foundation of HVAC knowledge and expertise. Lennox Dealers Toronto is committed to ensuring your air conditioner operates smoothly for many summers to come!