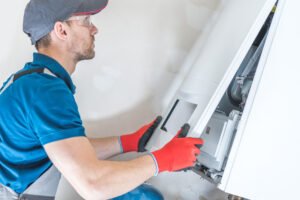 As a Canadian who has seen your share of cold winter days, you will know how good it is to have a Lennox furnace to keep you warm. The optimum warmth provided by a Lennox furnace will keep you feeling great, no matter how cold the winter can get.
Lennox furnaces come with several advantages, including,
Increased energy efficiency, meaning lower utility bills.
Compatible with intelligent thermostats for even more energy savings.
Improved technology, such as variable-speed heating, allows you to keep your home warm while saving money on energy.
Satisfaction knowing your new heater, recently installed, is equipped with superior safety features to protect your property.
Lennox furnaces are designed to provide cost-effective and dependable warmth in Canada's cold winter climate. Lennox furnaces feature efficiency ratings ranging from 80 percent to 98.2 percent AFUE.
You can rest assured that your heater will function properly throughout the winter without the need for costly emergency repairs. The majority of the Lennox furnaces available are ENERGY STAR approved, meaning they can save you money on your energy expenses compared to standard versions.
For Canada's cold winter, a gas furnace and an electric heat pump can be combined into one dual-fuel system for maximum comfort and economy.
The Lennox Furnaces models available include,
Lennox SLP98V Gas Furnace
Lennox EL296V Elite Series Furnace
Lennox EL296E Gas Furnace
Lennox EL195E Gas Furnace
Lennox has always been a household name in the world of home comfort. Today, Lennox is pushing the boundaries of home comfort to provide you with the most environmentally conscious and energy-saving furnaces.
When you choose Lennox furnace, you can be assured that you've made the best decision for your house and family.