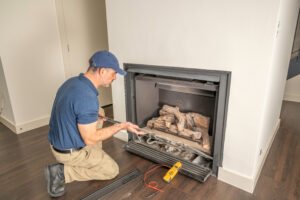 There's nothing better than the comfort and ambiance of a fireplace. With winter right around the corner, there's no better time than now to make your home warm and cozy with a gas fireplace. Installing one of these units is easier than you may think, and there's no need for a chimney!
With the flip of a switch, you can enjoy the crackle and glow of a fire. Here's everything you need to know about installing a gas fireplace.
The benefits of a gas fireplace
Nothing beats a traditional crackling wood fire. But over the years, wood fireplaces have started to lose their appeal, due to the inherent risk along with environmental impact. The good news is that today's gas fireplaces offer a similar experience without all of the dangers.
Modern gas fireplaces are beneficial in that they:
Burn cleaner
Are much easier to maintain
Can be controlled with the flip of a switch
With a direct-vent gas fireplace, you don't need to install a chimney. Instead, you can run a special vent to the outside of your home through an exterior wall.
Aside from their beauty and function, gas fireplaces also increase your home's value. If you intend to sell in the future, you can all but guarantee that you'll get back what you put into it.
How much does it cost to install a gas fireplace?
Anyone with general drywalling and carpentry skills can install a gas fireplace. Most people install the unit in about a day. Once the fireplace is installed, you'll then need a few days to frame and install drywall, along with troweling and joint compound.
Depending on the type, brand, and model gas fireplace you buy, the project will cost you anywhere from $1,800 to $2,500. However, this is assuming you have an existing gas and electric hookup.
You'll need several materials and tools to complete this project, including:
The fireplace unit
Vent parts
Wood framing
Drywall
Stucco coating
Along with a set of basic hand tools, you'll also want to have a drill and a circular saw handy.
What's the best type of gas fireplace?
We highly recommend a direct-vent fireplace. These units draw in air from outside and use it to fuel the flame. Direct-vent fireplaces are extremely efficient because they don't require a chimney. This means no more losing valuable heated air!
These fireplaces are also the best option because they're safe. Gas fireplaces have a much lower risk of dangerous carbon monoxide levels in your home.
Before purchasing a fireplace, it's important to find a dealer that offers showrooms in your area. Being able to see a fireplace in person makes it much easier to find one that best meets your vision (and budget).
Final thoughts
When installed properly, a modern gas fireplace can be enjoyed for decades to come. Get started on your project today so that you can be warm and cozy once the winter chill sets in!