Many homeowners look forward to the peace, tranquility, and quiet serenity that comes with the summer season. However, you may find it difficult to relax when your home's air conditioner unit is making too much noise. A loud air conditioner can be incredibly disruptive, emitting a consistent hum that will annoy your ears after a while. If you want to restore the cherished silence in your house, you should use the quietest air conditioner possible.
Fortunately, Lennox air conditioners are renowned for their minimal noise intrusion. These units are designed and manufactured to run as quietly as possible. In fact, the Lennox brand has gained a positive reputation among homeowners looking for quiet air conditioners in their homes. Even when your Lennox air conditioner is running nearby, it remains so quiet that you will hardly be disturbed!
How do you know if your Lennox air conditioner is quiet enough? We prepared the following guide to help you find the quietest Lennox air conditioner for your home.
Air conditioner decibel ratings
The decibel rating (dB) is a numeric measurement used to calculate an air conditioner's sound intensity. Each air conditioner model has a corresponding decibel rating. If you want the quietest Lennox air conditioner, you need to look for a low dB rating.
The quietest air conditioners should have a rating between 50 and 60 dB, as anything over 60 could be considered noisy. Generally, the smaller portable air conditioners and the window units tend to have lower dB ratings than the large capacity units.
At 50 dB, the air conditioner is operating around the same noise level as a quiet conversation at home. At 60 dB, the noise resembles a conversation held inside a restaurant. When the air conditioner reaches 70 dB, this is around the same noise level as using a vacuum cleaner.
Anything over 80 dB is probably too loud for the average homeowner. If you are looking for the quietest air conditioners, avoid picking a unit that exceeds 80 in the decibel ratings.
What are the quietest Lennox air conditioners?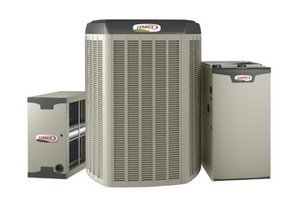 The Lennox XC25 is the quietest air conditioner in Lennox's line of products. This air conditioner's sound rating can go as low as 59 dB, making it virtually silent while in operation. The Lennox XC25 is engineered with a state-of-the-art composite fan and an insulated compressor compartment. Even when the air conditioner is running at full power and capacity, its technology means that the AC unit will barely register with your eardrums.
With the technological advancements in Lennox air conditioners, you will find many other models that operate quietly and discretely. The Lennox XC21 is another quiet Lennox air conditioner that goes as low as 65 dB in its sound rating. The XC21 also comes with the innovative Silent Comfort technology, which means it is structurally optimized to offer the best sound reduction.
Lennox offers a variety of air conditioners that are designed to produce as little noise as possible. No matter which Lennox air conditioners you choose, you will be pleased to know there is a suitably quiet model that matches your needs and budget.
What features can reduce an air conditioner's noise?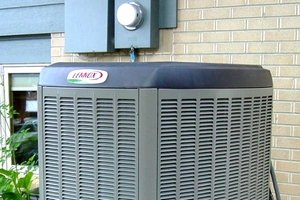 An air conditioner's fan design plays a significant role in how much noise the units generate. Certain fan blades are designed to spin more quietly than others, thus minimizing the noise level by significant amounts. In the Lennox XC25, you will find an industry-exclusive composite fan engineered to eliminate a lot of the noise. In the Lennox XC21, there is also an intricately shaped fan blade that will reduce the sound production.
Likewise, an air conditioner's insulation is another important feature that helps with the sound protection. When an air conditioner has thick insulation at the base or around the compressor, it will absorb much of the noise coming from the AC unit. Both the Lennox XC25 and the Lennox XC21 units are built with thick insulation, which can effectively reduce the noise to make the air conditioners quieter.
How do you reduce the air conditioner noise?
Depending on the type of air conditioner you have, it may be possible to reduce the amount of noise even further. In variable speed air conditioning units, the noise level is controlled by parameters that automatically adjust based on the outdoor temperature, the refrigerant temperature, and the indoor setpoint. This means your air conditioner will run at optimized specs to ensure its noise output is kept to a minimum.
If your Lennox air conditioner is making too much noise, it may be a good idea to have your system professionally inspected. An unusually noisy unit may indicate there are loose parts, damaged components, or other problems that can be diagnosed by an air conditioner repair service. A regular maintenance routine will help to keep your air conditioner running quietly and efficiently.