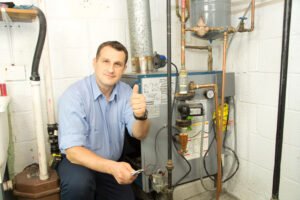 Winters in Whitby can be brutal. You know how important it is for you to have a furnace that's quality and works in your time of need. And Lennox has a long and reputable history providing high-quality products and repair services.
At the core of our mission is the desire to keep you comfortable in your home or any other place you're using one of our furnaces. Unfortunately, things go wrong sometimes and you need to call in an expert to help.
How do you know when it's time? Don't fret, we've got you covered! In this article, we will give you 4 tell-tale signs that it's time to get a professional on the scene.
4 Signs You Should Call For Lennox Furnace Repair in Whitby
If you can catch some of these, you can save yourself time, money, and headaches. And most of all, you'll be able to keep yourself and your family warm during these cold winters.
Notice any of the following? Don't hesitate to call one of our Climate Experts today!
The Furnace is Running in Shorter Cycles
Do you notice your furnace turning itself on and off more often than it normally does? Then that can be a surefire signal that something is up with the furnace. When working properly, an efficient Lennox furnace brings the temperature to a nice and comfortable level before kicking off.
Those shorter on/off cycles can be an indication your function isn't working correctly, and it might be time to call in a technician.
Your Furnace is Making Strange or Odd Noises
If you're hearing weird sounds coming from your furnace while it's turning on or running, then you need to contact a Lennox expert ASAP. Your furnace should NOT make any banging or explosive noises. That could be a sign something is seriously wrong and needs a specialist to inspect it.
There's A Weird Smell Coming From The Furnace/Vents
Any strange odors coming from the vents or furnace is another sign something is malfunctioning in the heating system. If you notice any weird smells, contact us immediately and we can send a tech out to investigate.
It's Blowing Out Cold Air
If you hit the thermostat to turn on your heat and there is only cool air coming out of the vents– that is a clear sign that your furnace isn't doing its job. It could be simple as a blocked duct preventing warmer air from flowing through.
However, it could also mean there's a deeper issue at the root. A certified tech will be able to come out to the location and get it sorted.
Contact Us Today: We're Serving Whitby!
Whether you need repair services because you noticed one of these signs or you're looking to upgrade or install a new furnace, you can call on us at Climate Experts. We're here and available to any questions or concerns.
Interested in learning more about what our team can do for you? Contact us today!