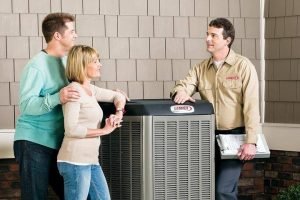 As the summer months are approaching, it's time to revisit a familiar piece of equipment in your home: the air conditioner. Your current AC system has seen quieter days during winter, but now is the right time to ensure it remains in working condition. If anything is wrong, you should get the repairs done before summer arrives. Based on what repairs are necessary, it may make more sense to buy a new air conditioning unit instead.
Buying a new air conditioner is essential when your current system seems too old or too inefficient. You can usually tell when your air conditioner needs to be replaced, although you'll have more accurate insights after a professional HVAC inspection. If your home doesn't feel cool enough on a typical summer day, you probably need to buy a new air conditioner.
You'll be happy to know that Lennox offers a superior line of air conditioners to suit every need and price point. To help you get started, here are five tips on how to buy a new Lennox air conditioner:
1. Understand what air conditioner you need
The decision to buy a new Lennox air conditioner requires some thoughtful consideration. The first step is determining which types of air conditioner do you need. Make a list of your ideal qualities in an AC unit. The criteria may include energy efficiency, noise level, humidity control, cost, warranty, or amount of maintenance.
Another important factor is the location of your air conditioner. Do you want the AC installed in your home, your cottage, or your business workplace? There might be a different set of requirements depending on where the unit is used. Luckily, Lennox air conditioners come in a variety of models, with innovative features that can suit many of your needs.
2. Buy an air conditioner within your budget
Budget is an important factor in deciding which air conditioner works best for you. The cost of air conditioners can range greatly in price, so it's a good idea to figure out how much you're willing to spend. Lennox's range of air conditioner units are available at all price points, to suit every budget.
Keep in mind that purchasing a high-efficiency air conditioner is a worthwhile investment, since you'll end up saving money on your energy bills. Even if you're paying a bit more for your AC unit upfront, it will reduce your monthly utility costs over the long term.
3. Learn about SEER ratings
You may have heard of the term "high efficiency air conditioner", but don't fully understand what that means. High efficiency air conditioners are assigned a high SEER ratio. SEER stands for Seasonal Energy Efficiency Ratio, which is used to measure the cooling efficiency of an AC device. Typically, AC brands are required to have a minimum SEER rating of 13.
In most cases, the higher the SEER rating, the higher the cost of an air conditioner unit. However, with a higher SEER rating, you should expect to see a greater percentage of energy savings each month. Lennox's range of air conditioners have SEER ratings ranging from 13-25, offering you a wide variety of options.
4. Decide between high efficiency vs standard AC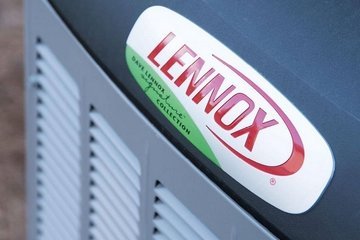 You may be wondering if it's worth purchasing a high-efficiency air conditioning unit, or whether a standard unit will be more appropriate. High efficiency air conditioners, like the ones offered by Lennox, do offer several more benefits than standard AC units. These units are more energy efficient and tend to be quieter.
If getting rid of humidity is enough for you, high efficiency air conditioners are better at dehumidifying than a standard unit. High efficiency units may cost more initially, but they will reduce the cooling costs while making your home more comfortable.
5. Contact a Lennox air conditioner technician
A knowledgeable technician will help enormously when you buy a new Lennox air conditioner. The technician is helpful when you have a lot of questions. You'll want the professional expert to explain the differences between the products, and then make recommendations based on your needs. The technician should be able to communicate effectively and give you all the information needed to make an informed purchase.
Installing an AC unit also requires a lot of technical knowledge and training. A certified technician can correctly install your AC unit, as well as perform regular maintenance in the future.
To learn more about our Lennox central air conditioner products, contact Climate Experts today. We'd be happy to explain all of our options and recommend the best Lennox air conditioner unit for you. Our goal is to help you enjoy a cool, comfortable home this summer!