Are you in the market for a new air conditioning system this summer? Ideally, you will want a great AC unit that meets certain quality benchmarks, such as durability, longevity, and energy efficiency. Since buying an air conditioner is a significant investment, your purchase should go towards a manufacturer with a sterling reputation. If you're looking for the best air conditioners, you may be interested to learn more about Lennox's line of products.
Lennox is one of the top brands for air conditioners. Known for their strength, endurance and performance, these AC units are popular with many homeowners around the world. As a prospective buyer, you may already have your eye on several Lennox AC systems, each with a set of unique features. Before making the purchase, you may want more information about the quality of their products.
Lennox air conditioners are great choices for cooling systems. As the experts on Lennox AC units, we are knowledgeable on their best qualities and features. Here are six Lennox air conditioner benefits and the reasons why you should buy a unit for your home:
1. High Energy Efficiency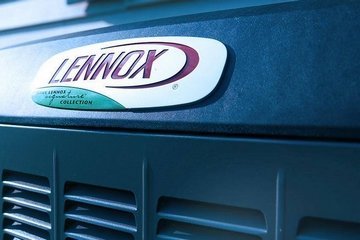 One of the best benefits from Lennox air conditioners is their high energy efficiency. Why is this important? Higher efficiency air conditioners will generally consume less energy, which translates to less money spent on utility bills. Ideally, you will want an air conditioner with a good SEER rating, also known as the Seasonal Energy Efficiency Ratio.
Lennox air conditioners have a SEER rating of up to 26. This is a remarkably high SEER rating for air conditioners, which means you'll be very comfortable during the hot and humid summer months. At the same time, the high SEER ratings in Lennox units allows you to enjoy valuable savings on your energy bills.
2. Great Sound Ratings
Do you hate being disturbed by that consistent humming noise from an air conditioner? If you have experienced the ruckus from noisy AC systems in the past, you'll surely enjoy the peace and quiet that Lennox air conditioners bring. In general, Lennox air conditioners have excellent sound ratings that go as low as 59 dB (decibels ratings). They are among the quietest AC units in the market.
As an example, the Lennox XC25 air conditioner features an industry-exclusive composite fan and insulated compressor, which makes it virtually silent! Other Lennox air conditioners are also built to minimize the noise impact, and you'll barely hear a peep while these units are running.
3. Air Conditioner Variety
Variety is the spice of life, and the same applies to air conditioners. The AC system in your home may have different requirements than a unit installed specifically for your summer cottage, or your workplace. Having the freedom to choose between different AC models will ensure you make an ideal purchase for your unique circumstances.
Lennox features a diverse selection in their product offerings. Depending on your needs, you can buy Lennox air conditioners with different levels of energy efficiency and sound ratings. There are also affordable systems to suit homeowners with varying budgets. No matter which Lennox air conditioner you pick, you'll be guaranteed a great quality air conditioner that is reliable, durable, and powerful.
4. Environmentally Friendly
Many homeowners have become increasingly mindful of minimizing their ecological footprint. Lennox has constructed their line of air conditioners with this priority in mind. They offer models that are solar ready and eco-friendly, assembled using the chlorine-free R-410A refrigerant. The R410-A is an environmentally friendly replacement for the R22 refrigerant, which was considered a contributor to greenhouse gases.
5. Warranty
Another benefit of purchasing Lennox air conditioners is the warranty offered on their products. When making any major appliance purchases, a long warranty period gives homeowners the peace of mind in case something goes wrong. Lennox provides up to a 10-year limited warranty on covered components for their air conditioner models. The extensive Lennox warranty ensures that the quality of your AC system is consistently maintained.
6. Easy Installation & Maintenance
Lennox air conditioners are very user-friendly, making both the installation and the maintenance processes effortlessly accessible. Our professional technicians are specially trained in the proper installation of Lennox air conditioners. We will make the transition of changing air conditioners as easy as possible. As part of the setup, we will also test the new AC unit and ensure it works optimally according to the manufacturer's specifications.
If you need troubleshooting help, our technicians are on call 24/7 and will provide you with fast air conditioner repair services at a great price. We have an experienced and qualified team of experts to handle any HVAC problem you may encounter. For more questions and information about the Lennox line of air conditioners, contact us today. Our professional technicians would love to assist you!