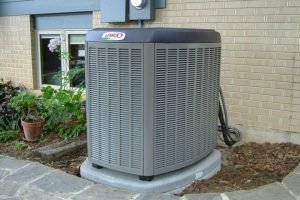 Your air conditioner keeps the home cool and comfortable, turning the indoor space into a welcoming retreat from the summer heat. While you're enjoying the benefits of your AC unit, you may begin to wonder about the environmental impact of operating this equipment. Many of us care deeply about the environment, so we want to ensure the AC unit won't breathe toxicity into the air outside.
At Lennox Dealers Toronto, we're proud to offer a vast selection of eco-friendly air conditioners. Our HVAC products have been celebrated by the annual Green Products Awards, which recognizes Lennox's ongoing commitment to sustainability. Our products are also ENERGY STAR qualified. When you purchase a Lennox air conditioner, you'll feel reassured by our energy-efficient technology, designed to decrease the carbon footprint.
Many Lennox air conditioners come with innovative features that help to preserve the environment. Check out these following features of our eco-friendly air conditioners!
1. Lennox air conditioners have zero HCFC refrigerants.
In the past, air conditioners were made with harmful HCFC refrigerants, also known as hydrochlorofluorocarbons. HCFC refrigerants have been found to contribute to damages in the ozone layer. Some of the older air conditioner models, especially in homes that haven't upgraded their systems in a while, still contain this toxic component.
Fortunately, Lennox air conditioners are built with new eco-friendly technology that replaces the HCFC refrigerants. Modern air conditioner manufacturers, like Lennox, use the safe and chlorine-free R-410A refrigerant instead. This means whenever you upgrade your old AC unit to a Lennox model, you could potentially be helping the environment!
2. Lennox air conditioners have a high Seasonal Energy Efficiency Ratio (SEER).
An important metric for any air conditioner is its Seasonal Energy Efficiency Ratio (SEER), which measures the cooling efficiency of the system. Many Lennox air conditioners come with excellent SEER ratings. These air conditioners will run with high efficiency, producing less wasteful energy usage.
The most notable technological achievement is the Lennox XC25 air conditioner, which has a SEER rating that goes up to 26.00. This is an incredible SEER rating, outperforming many other air conditioners in the market. With the XC25 model, along with various Lennox products, you will have a great AC unit that complements your eco-friendly lifestyle.
3. Lennox air conditioners can use solar power.
In addition to its remarkable SEER rating, the Lennox XC25 can harness the sun's powerful energy to create a more efficient airflow. Using our registered SunSource® Home Energy System, the Lennox XC25 can take solar power and utilizes it to keep the air conditioner running smoothly. If there's any leftover harnessed energy from the sun, this is distributed intelligently to other household appliances as well.
This air conditioner uses renewable energy to minimize your electricity costs. In fact, some homeowners may be financially compensated for using a sustainable energy source to power their air conditioners. Depending on your region, using solar technology in your AC may qualify you for tax deductions or local utility rebates. You should ask Lennox Dealers Toronto to see if you are eligible for these tax credits.
4. Lennox air conditioners come in optimal sizes for energy efficiency.
Your air conditioner could possibly be burning up a lot of electricity while trying to keep your house cool. This often occurs when your air conditioner size is too small. As a result, the unit might struggle to keep up with your cooling needs. When the AC unit must work harder to stay cool, it becomes much less energy efficient.
You'll be glad to know that Lennox air conditioners come in different sizes to accommodate a variety of homes. With so many options available, you'll be able to choose the optimal size and ensure your AC unit is running with maximum energy efficiency.
5. Lennox air conditioners work with modern thermostats.
The development of HVAC technology is continuously improving. Nowadays, modern thermostats have eco-friendly features that work efficiently with your air conditioner. For instance, some digital thermostats allow you to customize its settings, so the AC won't run whenever you're away from the house.
Since Lennox is up to date with the newest HVAC technologies, our conditioners are built to work in unison with modern programmable thermostats. As new thermostats emerge with exciting features, Lennox will also enhance our production to coordinate with the latest technological advancements.
6. Lennox air conditioners are easy to maintain regularly.
Your air conditioner needs regular maintenance to ensure it runs at an optimal energy efficiency. Fortunately, Lennox air conditioners are known to have an easy maintenance process. Simply call a Lennox air conditioner service for a regular inspection, and this routine check-up will be performed with minimal hassle. After the professional inspection, you'll be glad to have an energy-efficient air conditioner in great eco-friendly shape!